Companies today are increasingly aware of the potential offered by digital transformation for the modernization and simplification of their IT infrastructures; their needs are to free up resources to dedicate to innovation, save time, reduce the risk of human error.
The main focus is on cost optimization and the ability to be more efficient.

To respond to these market demands, we have selected for you a targeted solution, suitable for entering the world of the Cloud, quickly, easily and with a low investment.
RPA - Robotic Process Automation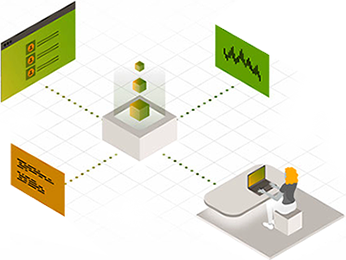 Robotic Process Automation is a solution based on the use of Robot Software to automate repetitive and routine tasks performed by employees (
knowledge workers
).
RPA 'bots' (
digital workers
) replicate the actions of human beings by interacting with application interfaces without modifying them and efficiently perform repetitive high-volume jobs (potentially 24x7) ensuring:
Process efficiency
Reduction of manual skills and therefore reduction of errors in data entry
Better peak handling and more flexibility
RPA is accessible to small and medium-sized organizations because it presents a low barrier to entry in terms of cost, speed of implementation, simplicity and time-to-value.
But it is equally applicable to large enterprises that can benefit from enormous performance and ROI by optimizing the activities currently carried out by a large human workforce.
Sectors of use
RPA solution is already used by numerous companies in different industry sectors:



Customer Service
With RPA you can sort customer inquiries and quickly offer the right answers - the automated system separates inquiries into different categories, ensuring they reach the right operator for quick resolution.
This results in savings in employee time, rapid customer response and higher levels of customer satisfaction.



Process Invoicing
With RPA you can automate the entire end-to-end process, from receipt to payment of invoices.
The RPA automatically processes the invoices received, allowing you to automate data entry, the reconciliation process and process some decision-making processes, minimizing the need for human intervention.



Customers Information Update
RPA, acquires customer requests regarding changes to personal data and, in an automated way, updates the data without risk of errors.
Business case
Strengthen workforce efficiency with RPA
The RPA solution frees GAM employees from time-consuming processes and allows them to focus on more interesting and more valuable activities.
Plus, simple editing capabilities give the workforce the ability to program bots without depending on IT staff.
Download .pdf